If you work in Industrial Design, you will understand how important it is to get the design of your product right to ensure that the product, once mass-manufactured, is both aesthetically pleasing and functional. And of course, for a product that is created to be used over and over again, branding is a key consideration that must be incorporated into the product during the design stage.
Why is branding so important?
A brand does not exist within a company or organisation. A brand exists in the minds of your customers so developing a strong brand presence (link to product branding blog) to go with any new product you design plays a big role in the success of that product.
Building a strong brand within your product design will help your product design succeed. It's important to start consulting with a branding expert as early in the design process as possible.
The five key questions to consider
1. What 'look' am I after?
At LNI, we manufacture Australia's largest range of industrial branding products, utilising the very latest technology. This means that no matter what look you are after, we will have a branding solution to suit.
Your product may look best with a 3D badge, such as our Lunakrome™ technology, which is used heavily in the automotive and marine sectors. These 3D badges look just like chrome plated moulding, but are flexible so are perfect for curved, flat or textured surfaces. Lenscal (domed) badges are another popular premium decorative badge that can be cut into any shape. Lenscal gives your badge a crystal clear, high gloss 3D resin coating that is resistant to UV, weather, salt water, impact, abrasion and most solvents and chemicals – perfect for logo and product identification badges.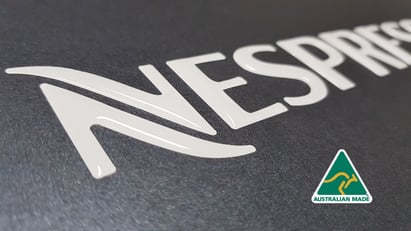 LNI uses a lenscal process called microlens. It's interesting to note that only a couple of manufacturers in Australia and New Zealand have a machine which works to this specification level, creating the sharpest of images, with edge to edge image clarity.
If your product is better suited to a flat badge or label, Premium Decorative Nameplates are very popular and add a real wow factor. These highly versatile aluminium badges can be etched, embossed, printed or dyed and fixed in a variety of ways. These are a perfect solution if you need to include a bit more information to your product, not just the logo or brand name.
Some products need switches or control panels, such as ATMs, gaming machines, keyboards or other electronic devices. LNI can provide extremely durable, affordable and decorative Graphic Panels allowing a fully functioning control panel for your product with a variety of different button/screen options and film finishes.
These are just some of the numerous solutions that LNI can provide for your product. With more than 50 years' experience supplying branding solutions, LNI has dealt with virtually every scenario imaginable, and we can help you achieve the look you want.

2. How will the badge, label or metal nameplate stick/adhere to my product design? Is the surface of my product design flat or curved? Is it grained?
Did you know that at LNI we have more than 50 different types of adhesives to select from? In fact, choosing the right adhesive is one of the most important aspects when deciding on a branding solution for your product.
Knowing the surface that your label, nameplate or badge is to be adhered to is critical as every surface reacts differently with adhesives. For example – adhering to the metal surface of a car or truck is very different to adhering to the cloth surface of a blind, or to wooden outdoor furniture. We stock a huge selection of adhesives from all the leading brands ensuring there will be at least one that is perfect for your label, nameplate or badge on your product design, no matter what the surface.
3. What is the intended life-span of my product design?
The expected life of the nameplate, label or badge needs to be taken into consideration at the initial design stage. Your nameplate or label should be expected to last as long as the product that it will be placed on. Does your product need to last one, five or twenty years? The materials and adhesive used will often vary greatly when product life-span is considered.
LNI is committed to constantly developing and delivering high quality nameplates, badges and labels that are easy to apply and made to last - as long as, or longer than the product they're applied to.
4. What environmental factors will my product design be exposed to?
Knowing where and how your product will be used will affect what type of material and finishes are used. You need to know whether it will be exposed to dust, rain or water, any potentially harmful chemicals, extreme or changing temperatures as well as abrasion. All of these can wear down nameplates, labels or badges, making them difficult to read. Every environmental factor that your label will be exposed to will be considered by LNI and the branding solution we provide for your product will not fail.
5. How can I make my brand stand out?
Have you ever noticed how the branding on a car often outlasts the car itself? The paint is rusted, and the car hardly works anymore, but you can still tell which brand and make it is. This is because often the best opportunity to show off your brand is on the product itself. Outdoor furniture is the same. After ten years of weather and damage, people may think it is time for a new set and if your branding is still prominent on the old set that served them so well, they will think of your brand in a buying situation. You can create this every time you design a nameplate or label for a new product, so why would you not take it? Make sure that your brand stands out on your product design, with a nameplate, label or badge that is built to last.
Talk with an expert
If you are unsure of where to begin when incorporating branding solutions into your product design, or need clarification on any of the above steps, talk with an expert at LNI and we will work with you to find the perfect nameplate, label or badge solution for your product.