LunaKrome™ is the world's most advanced 3D chrome badge technology.It's more than likely that you have seen LNI's badges many times on the back of most of the vehicles driving around near you. They are currently used in Australia by Holden, Toyota, Nissan, Hyundai, Kia, Mercedes-Benz, BMW, Mini, MACK, Kenworth, Isuzu Ute and more.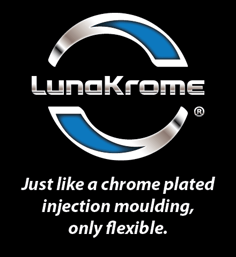 LunaKrome™ 3D badges look just like chrome plated moulding and offer the same high-performance levels though are not rigid like traditionally chrome plated badges. LunaKrome™ offers the benefit of flexibility which is perfect for use on curved, flat or textured surfaces along with application or different models or even vehicles.
LNI's badges are Australian Made, locally in Victoria therefore orders are usually received within weeks from when they are placed. There is also the option of a 3D printed prototype to be supplied at the design stage. LNI has also invested in an advanced CNC machining centre allowing all tooling to be made in-house. This provides you with shorter response times, more accountability and a superior quality product.
LunaKrome™ badges come with a foam adhesive to suit your specifications and can be supplied mounted into a disposable fitting template. They are also fast and affordable with inspiring design possibilities. The LNI art department can guide you through the range of chrome finishes to choose from including gloss, satin, brushed and black along well as the option of adding full-colour printing onto the base chrome material to match any corporate colour or design, or just to give even more impact!
Why was LunaKrome™ created?
LNI has been designing and manufacturing high-quality nameplates, labels and badges right here in Australia for more than 50 years. Over these many decades of experience, LNI has obtained a deep knowledge of the many industries and has been at the forefront of innovation in the badge, label and nameplate sector in Australia.
LNI was one of the first Australian companies to bring the Lenscal (urethane doming) process into the country and not long after this, LNI identified a gap in the market for fast, affordable and flexible 3D Chrome badges.
LNI has since extended their 3D chrome badge capabilities to include its own LunaKrome™ product – the world's most advanced 3D chrome badge technology.
Who uses LunaKrome™?
LNI's LunaKrome™ 3D chrome badge technology is used by our Automotive clients for their exterior and interior vehicle badging requirements, including Limited and Special Edition vehicles, and is also heavily used across industries such as truck, train, tram and bus as well as in the RV & Marine industry.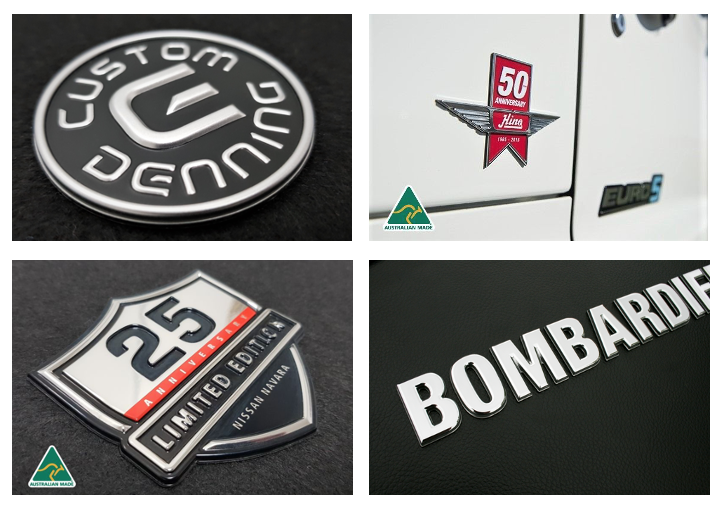 But it is not just those in the Automotive, truck or RV & Marine sector who can benefit from LunaKrome™ badges. They are also suitable for many other product branding or retail product display badges.
Continuing innovation
LNI continues to invest in the LunaKrome™ product by staying at the forefront of the latest badge technology and streamlining the design process. We work with a select group of suppliers, maintaining full control over manufacturing and we fully test and validate our products to our customers' specifications along with the correct quality accreditations. Read a blog here on the LNI Process.
Talk with an expert
Contact us online here or please call and speak with a product branding expert on Freecall 1800 633 533 to discuss how LunaKrome™ can help to make your logo pop for years to come.