At LNI, we have been creating beautiful and functional labels, badges and nameplates for more than 50 years. We understand that the design of your nameplate, badge or label needs to align with your brand strategy. The right information at the outset means that you will get a product that looks great, serves its purpose well and will last for years to come. We've put together this expert 6-point checklist below, to guide you through the key considerations.
1. What is your objective?
It is important to know what you want to achieve with your nameplate, badge or label.
Whether you want to draw attention to your brand, need to communicate safety instructions, show identification details for industrial equipment, or need functional touch control buttons or graphic overlays, LNI has a range of branding solutions for any product branding project.
2. Artwork and graphics
At LNI, we have a dedicated in-house Art Department that offers a total artwork service. We can work with you to create the graphics which can then be transformed into high impact and durable labels, badges, or nameplates. Some of the things you should consider concerning your design are:
Will you include your logo?
Will there be a tagline or other text?
Will other imagery or colour be incorporated?
What look appeals to you - opaque, transparent, metallic?
Do you prefer gloss or matte?
We can supply your artwork to scale, detailing all information and layout, and with full-colour specifications so you can see and understand exactly how your end product will look. Read about the LNI Services here.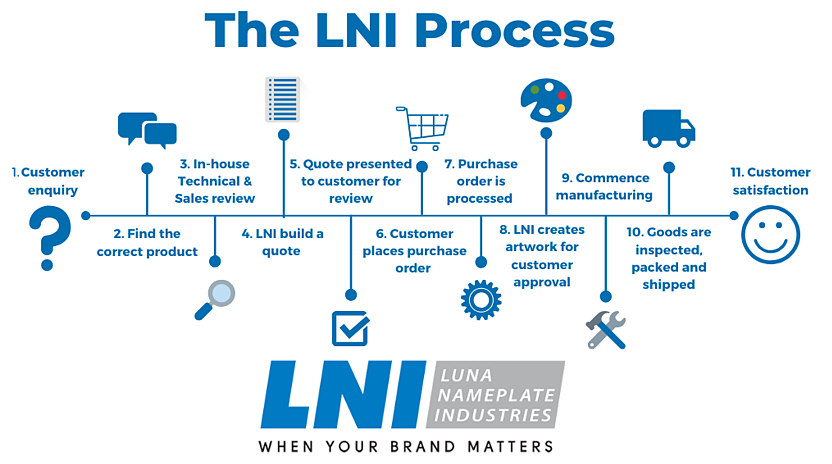 3. Shape and size
LNI can create a label in any custom shape required, or in standard oval, circle, square or rectangle. It can have sharp or rounded corners. We have produced labels, badges and nameplates in a huge range of sizes – from branding on semitrailers, to very small, discrete badges on small household goods. The label must fit the product it is to be adhered to. We can help you work out what size and shape nameplate, label or badge would best suit your product – and we have the tools and experience to create your exact requirements, no matter what your industry.
4. Materials used
There are a huge variety of base materials that can be used to create nameplates, badges and labels. Finding the correct branding solution for your specifications and expectations is so important, and there are many considerations – your brand, your product category, colour requirements, how the label will be applied, the environment your product will be used in – just to name a few!
We've listed just some of the materials that can be used to create your product branding solution. LNI's dedicated Technical Division will work with you to identify the most appropriate materials, processes and product solutions to match your requirements.
And, of course, LNI's Lenscal (domed) badging can turn a label into a premium badge with a crystal clear, gloss 3D coating which won't fade or crack over time.
It is also important to consider the surface that the label or nameplate will adhere to. Will it be flat, curved, smooth or textured, a recessed area, powder-coated metal or plastic? There are so many variables and you want to make sure that the material used (and the adhesive selected) are suitable.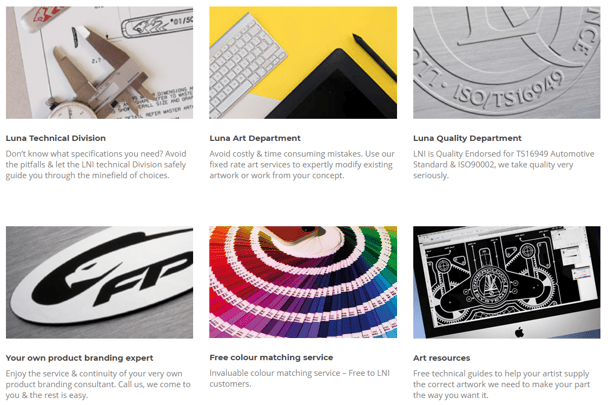 5. Adhesive used
Did you know that adhesives are one of the most important features of a nameplate, label or badge? The most beautiful looking badge or label is not going to serve its intended purpose if it has fallen off or is peeling.
LNI stocks over 50 different types of adhesive for use with the many variants of product branding, read here all about the types and how important it is to use the correct adhesive.
LNI has a thorough understanding of a range of industries, their applicable regulations and the combination of materials and adhesives that best suit the multitude of applications throughout these industries.
6. Environment
Where will your product be used? Will it be exposed to high temperatures, chemicals or solvents or abrasion, or other harsh environments? At LNI, we can provide a branding solution that will last as long as your product. LNI has a dedicated Quality Department to ensure that our branding solutions meet or exceed your standards, ensuring that industry standards are complied with. We can provide solutions that are resistant to:

High temperatures
Abrasion and rough handling
Chemicals and solvents
Oils and grease
Moisture and humidity
Salt spray
UV.
We test our labels, badges and nameplates in specialised exposure testing facilities – read about the exposure testing we carry out here.
Contact the experts at LNI
It is the detail that counts in your product branding project – the more information you're able to provide at the start of the project, the better we can help you to achieve a high-quality, long-lasting result, working with you from the concept through to completion.
As well as the above checklist, please see our 12 Questions eBook below which provides even more detail.
If you have any questions about any part of the process, our team of experts are available any time to talk with you.
All our products are Australian made, designed, and manufactured! Request a quote from LNI today.