Baby, it is cold outside! At this time of year indoor and outdoor heaters, and in fact, all products in the heating sector are in hot demand. At LNI, we understand that in some sectors badges and labels are exposed to a huge range of temperature variations and need to not only look impressive but need to withstand these extremes.
Just one of the sectors that we specialise in is the heating, cooling and refrigeration industry. Our badges and labels designed especially for heaters, coolers, fridges and freezers can absolutely cope with these temperature extremes and are made to make a lasting impression for the life of the appliance.
Three key things to consider if your products are exposed to such temperature extremes are below.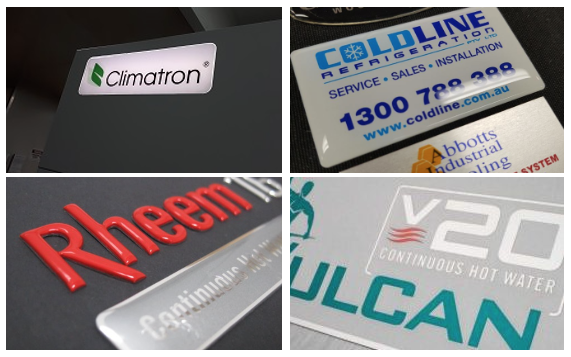 1. What temperature extremes are we dealing with?
The first thing we do when working with products exposed to temperature extremes is to involve our experienced Technical team. We will find out the range of temperatures your product is exposed to and whether it is direct or indirect heat or cold exposure. We will work with you to find a perfect solution for your product. At LNI, we can customise all our products using our vast range of different materials and adhesives to find the perfect badge, label or metal nameplate for any application and environment. Read here about the exposure testing we have in place for all our products.
2. Which badge is best?
Many of our clients assume that metal nameplates are the only solution for their product when exposed to temperature extremes. They are usually pleasantly surprised to know that these are just one solution! Depending on the application, we also recommend Lenscal (domed) badges or premium decorative nameplates for branding your products and can also make self-adhesive labels for the all-important warning labels, instruction labels, and safety labels. We have worked in your sector for decades, and this experience means we can find a perfect solution for any product.
3. The adhesive that is used
We have said it before, but it is worth repeating here! Not all adhesives were created equal. A badge, nameplate or label serves a very important purpose on any product which is all for nothing if they fall off! This is why choosing the right adhesive is one of the most important aspects of any branding solution decision. Extreme heat or cold can have a negative effect on many adhesives. LNI has a huge range of adhesives to select from – including ones that are perfectly suited to products exposed to heat or cold. The surface that your badge or label will be applied to must also be carefully considered, as different surfaces need different adhesive solutions. Our Technical team can consider all the variables to ensure the adhesive we select for your product will last for the life of your product. It is definitely not one size fits all!
Talk to the experts
Just because your product might be exposed to temperature extremes does not mean you are limited in terms of your branding or labelling solutions.
Contact the experts at LNI today to find a solution that will last longer than your product itself.