At LNI, we take quality very seriously – it's not only a matter of pride for us, but it is critical that our products meet or exceed your standards.
If our nameplates, labels or badges are not made to the highest possible standards, then that reflects poorly on your products.
Let's define 'Quality'
Put very simply, quality is how good something is. If the quality of a product is high then that means that it is fit for its purpose. If the quality of an item is low that means that the product may break easily or not work properly. When people say something is a quality product that means that the product is of good quality.
LNI's Quality & Technical Departments
LNI has dedicated Quality and Technical Departments which are responsible for ensuring that our products meet or exceed your expectations and requirements – and maintain our Quality Assurance system. This system ensures proven, consistent compliance with not only your requirements but with industry standards.
LNI is IATF/TS 16949, ISO 9001:2015 and ISO 14001 certified – which are international standards that specifies requirements for a quality management system. Organisations use these standards to demonstrate their ability to consistently provide products and services that meet customer and regulatory requirements.
Continuous improvement is another requirement of quality certification, particularly IATF/TS 16949 automotive standard. LNI stays at the forefront of technology and has invested in a 3D printer along with the latest tech machining centre, allowing us to make our own tooling in house. This leads to shorter response times for you, more accountability and superior quality products.
LNI's Product Testing
Just one of the things LNI's Quality Department does to ensure quality products every time is product testing. Our products get tested across three different facilities in the USA and Australia as well as laboratory testing to evaluate their resistance to fading, weather, heat, corrosion, abrasion and general deterioration. LNI is the only badge, metal nameplate and label supplier going to these lengths to regularly conduct two years of outdoor testing.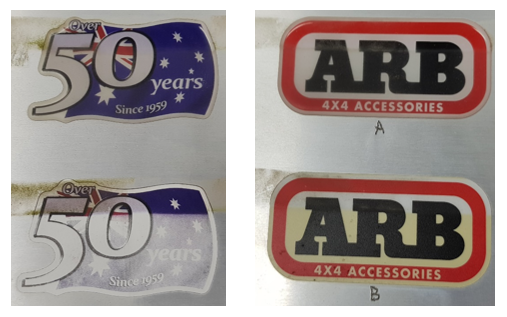 Product testing examples
The images above show what happens to digital or screen printing after two years at Allunga. The lower images on both samples are straight digital or screen print on white material, with a strip of material placed over the top section of the label during testing to show the fading characteristics. The higher images on each sample are the same part but finished as a Lenscal (or domed) badge. You can see how the UV resistant Lenscal resin topcoat protects the print detail.
Below are the four key reasons why we take quality control so seriously.
1. Happier customers
There would not be a business anywhere that does not want to provide quality to their customers – whether their offering is a service or a product. Without quality, the reputation of the brands we supply to can go downhill quickly – not to mention our own reputation! Quality products = happy customers.
2. Reduced costs
Our Technical Department reviews all potential orders during the quoting process to ensure the most appropriate materials and processes are quoted for the requirements of your job. Instead of a one size fits all option, LNI has multiple raw material options and manufacturing solutions available. This allows LNI to solve any product branding issues that your business may face.
This careful review of every job as it is quoted means better workflow and reduced costs.
3. Customer loyalty
Providing consistently high-quality products that meet or exceed expectations breeds customer loyalty. Many of our customers have been using LNI products for decades. And the benefits of loyal customers accrue over time.
As a testament to this, LNI has been the supplier of automotive badges to Toyota for nearly five decades, and nearly 40 years to Holden and Ford. Other LNI customers in different industries include ARB (4x4 accessories), Fluidra (pool chlorinators), Xtralis/Honeywell (fire/smoke alarms), Jayco (caravans), Vawdrey (truck bodies), Sayfa (OH&S), Gliderol (garage doors) and Camatic (stadium seating).
4. Compliance
Our IATF/TS 16949, ISO 9001 and ISO 14001 certification means that we have an appropriate and effective Quality Management System and seek continuous improvement. It is a requirement for many of our customers that we have this quality certification.
Contact the experts
Badges, labels and metal nameplates which fade is not the norm, and nor should it be. If your labels or badges are fading then it is generally a result of cheap materials and inappropriate manufacturing methods.

To discuss how LNI can provide you with a quality solution for your next product, or for more information regarding your product and the testing it goes through with LNI's Quality Department, please contact LNI today.