LNI has a dedicated Sales Team consisting of internal and external team members who can assist with any metal nameplate, badge or labelling requirement, whether it's a new concept or existing. The team works with you to ensure the correct product for the application is supplied. In some cases, this may require the assistance of our in-house Technical Division when reviewing material and adhesive selection.
Once the review process has been completed the LNI Estimating Department will work on the quote to be supplied to you. On acceptance of the quote and after an official order has been placed, artwork will be created and supplied to you for review and approval prior to production. In most cases our Art Department will supply your artwork to scale detailing the information and layout including colours. This gives you the opportunity to review to ensure all the details are correct prior to manufacturing.

Once you've approved your artwork, LNI will commence the production process. The production timing varies depending on the product being supplied. For instance, a label will take less time to produce compared to a urethane Lenscal badge as the urethane topcoat will need time to cure. Extra time may be required if tooling is required to be made.

LNI supplies a large volume of nameplates to various industries for both decorative and functional purposes. Most decorative nameplates are supplied using a high gloss aluminium that can be etched and anodised that produces a permanent raised or recessed image on the aluminium without the requirement of a tool.

Other options for nameplates may include matching colours and printing directly onto the aluminium. Functional nameplates such as a serial or compliance plate can be produced in both methods subject to your requirements. In some cases, the nameplate may have to meet an industry standard or specification which the Quality Department can assist with.

Prior to quoting any opportunity for a 3D badge, or an automotive or defence customer, an internal technical review meeting is conducted. During this meeting the Technical Division and Engineering team, Operations and Quality Manager, Art Department and the LNI Business Development Manager will discuss the design and application of the badge as well as the colours required. This ensures you receive a quote for a part you know will do its job.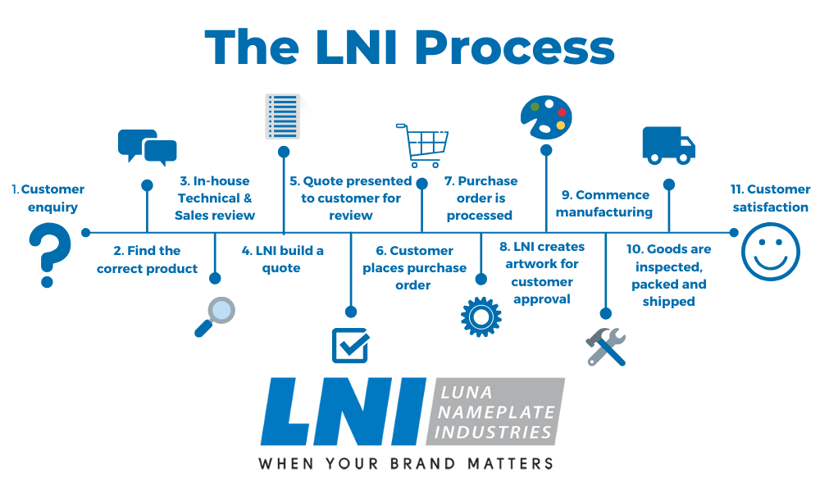 All LNI's metal nameplates, badges and labels are designed and manufactured in-house and are quality tested for consistency and durability to avoid unwanted fading or failure. Click here to get in touch – we can solve any labelling problem you may be experiencing.