A brand does not exist within a company or organisation. A brand exists in the minds of your customers. Developing a strong brand presence to go with your product plays a big role in the success of your company and a big part of this is the quality of your logo and branding associations that come with it.
It is not only about having a great brand or logo it is also about how it is displayed on each of your products. Making sure your logo is strong and visible for years to come is very important for your brand reputation, so why not etch, dye, emboss, print, brush or form it on a high-grade metal nameplate.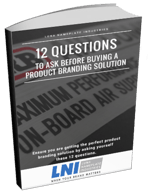 Building high-quality metal nameplates, labels and badges have been LNI's business for 50 years, so it is safe to say that unique techniques, finishes and styles have been picked up along the way. With a huge number of different types of adhesives, raw materials and resin finishes available, LNI has the solution for almost all jobs.
LNI's aluminium nameplates are manufactured from high-grade aluminium with the ability to be anodised for additional durability which is traditionally used where information, such as serial numbers, is required to last. They are also used for premium decorative nameplates to add class to any product requiring a top-end branding solution.
Whether you are looking for a permanent or a short-term promotional design decorative nameplate for your next product, aluminium nameplates are designed to retain their original good looks and durability under a broad range of challenging environments, including high temperatures, long outdoor exposure, abrasion, salt spray and most chemicals. They can be supplied with mounting holes, adhesive-backed or both.
LNI sets the standards for all of the metal nameplates designed and manufactured to make sure they last. LNI has an in-house Art Department, Technical Division and Quality Department to work with you on products that require bespoke specifications and challenging design requests. LNI loves to work with printing and advertising companies to ensure both our clients and your clients get the products they need.
All LNI's metal nameplates, badges and labels are designed and manufactured in-house and are quality tested for consistency and durability to avoid unwanted fading or failure.
Contact us today - we can solve any tricky labelling problem you or your clients may be experiencing.